Our Adoptions of VictoriaRose and NicholasMisha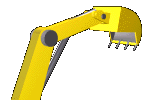 Between the Homestudy,FBI,INS,American Government and Russia,NOONE leaves anything uncovered about you!DIG!
July 30-November 28, 1998

Our homestudy social worker was wonderful and so was the interview.With that said,I cleaned, prepared appetizers, changed my outfit 3 times then re-cleaned again.All in all,the preparation took longer than the homestudy (1 and half hours.)The study was complete and this date was July 30th.......Four and a half months later,a video tape arrived with alot of children on it.The instant I seen the third child, I screamed "That's MY daughter,Turn it off!"..When I saw that little,rolly polly baby and my heart JUMPED!That has never happened before.It's a sign...My heart jumped!"...The next day,I sent a video copy to the University of Minnesota to Dr. Dana Johnson.For a donation, this doctor reviews tapes of Russian children for a medical evaluation.3 days later,I picked up the phone to Dr. Johnson's voice.He said"Ms. Best,this beautiful,little baby girl is as healthy as you can hope for.Das Vi Daniya..Go to Russia." NOW...Time for preparations of a baby shower!Never a dull moment !