Our Adoptions of VictoriaRose and NicholasMisha
ya l'yoo - B'LOO tib - YA
Not flesh of my flesh,
Not bone of my bone,
But still miraculously my own,
Never forget for a single minute,
You didn't grow UNDER my heart but IN it.


"When they placed you in my arms and I looked into your face, I felt our hearts melt into one ~ a miracle took place. My prayer was finally answered, though delayed, '''twas not denied ~ the pain of love unanswered, in a moment's time subsides. God's plan seemed hard to understand. The circle's now complete. He placed the heavens in my arms, so precious and so sweet. Though you grew within another, my soul and yours were one. We united in God's loving heart before life had begun. I received a priceless treasure ~ this adopted child I love... a gift of joy and happiness to me from God above."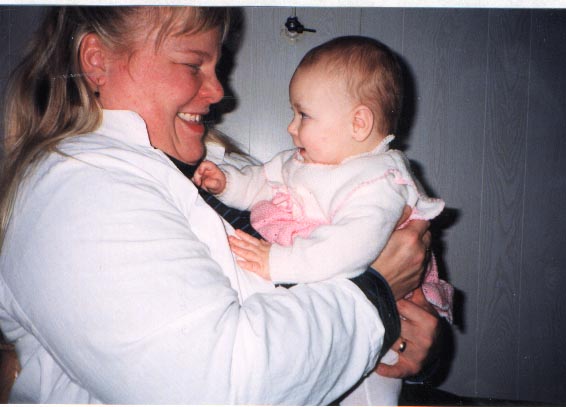 This Picture "SAYS IT ALL!"
TODAY I KISSED AN ANGEL

Today I kissed an angel;
I knew if from the start.
The first time my angel smiled at me;
I gave away my heart.

Today I kissed an angel;
This angel child of mine.
Though not of my creation,
My child by GOD'S design.

Today I kissed an angel;
My heart is dancing wild.
Our family, by a miracle;
Blessed by our angel child.



January 27, 1999

Did anyone ever come across something or someone that just takes your breath away?That opens a rose-colored door to a spring time meadow of flowers?Ever hear angels sing and God shine down on you?Can't even explain the felling you are having but you know the world has stopped spinning, time froze and the only eyes you focus on is this "creation that God made" being held in front of you.Your eyes meet and for the first time in your life, you feel complete.My daughter has found her parents.."Where have you been all my life?"And her eyes say"Hi Mommy!"Tori's first words were "DA".it took her 9 months to say"MAMA".Tori weighed 11lbs.,22'long,was 7 1/2 moths old,no hair and could not sit up,hold her head,and was very sick.She wheezed and had a bad lung infection.She had not been fed anything solid ever just formula when they had it.Tori rocked her head and body back and forth constantly.We said it looked like she was doing the Polka.She never had a diaper on and peed all over me.What a wonderful feeling!I am a mom...almost.The most difficult part of my entire journey was saying goodbye to my precious angel until the court date the following morning.The next day at 9:00am, our driver came with our facilitator to drive us to the courthouse.We were the second of 8 couple to be interviewed.The lady judge asked my interpetor if we had brought any "necessities"to take care of this infant now?I said"Yes,3 suitcases full."And the judge laughed so hard!Then she asked how we were planning on raising our child as far as her heritage was concerned.I answered"I am Eastern European and my heritage is very important to me and my family.She will know of her nationality backgrounds."15 minutes later,we were driven to the orphanage,the 10 days were waived, and my precious Torirose was handed to me.....